Product Description
Scrubba Allurette™ washer is the new sister product to the Scrubba wash bag. Featuring flatter, more rounded washboard ridges that have been designed with the most delicate of items in mind, the Allurette washer excels at gently and effectively washing most delicates and hand-wash only activewear.
The Allurette washer has been designed for home and travel to make the hand washing process easy, fast, and mess-free. Small loads can be gently and effectively washed in just minutes. It is perfect for fashion-lovers with lots of hand-wash only clothing, parents who need to wash baby clothes, active women, the environmentally-conscious, travellers, and those with sensitive skin.
The Allurette washer is slightly smaller than the Scrubba wash bag and weighs just 112g. It is twice as effective as hand washing* and a lot more hygienic than washing in a dirty hotel sink.
Features
With an Allurette washer you can:
Save time: Small loads can be washed in the Allurette washer in just a few minutes. No more messy soaking or waiting for the washing machine, which is often too harsh on clothes anyway.

Avoid mess: Allurette is self-contained, preventing you from having to mop up any soapy spills - ideal for anyone who avoids hand washing because the clean-up takes longer than the washing process itself. The Allurette washer can also be compactly stored after use.

Be organised: Using the Allurette washer means no more soaking clothes in the sink or in buckets. The Allurette washer can also be used as a laundry bag for storing your delicates pre-wash, keeping them separate from the rest of your laundry.

Extend the life of your clothes: The Allurette washer is gentle on clothes, keeping them looking clean, vibrant, and fresh, many washes in.

Save money: Longer lasting clothes means less money spent on their replacement or restoration. The Allurette washer is also electricity-free and uses minimal water. As an added benefit, travellers can avoid hotel laundry fees by taking this highly portable wash bag along on their adventures.

Protect your skin: Hand washing exposes you to harsh chemicals that can, over time, dry out your skin, leaving it cracked and worn. This makes hand washing a truly problematic task, especially for those who suffer from sensitive skin or conditions such as eczema. As clothes are rubbed from the outside of the Allurette washer, hands remain dry, with minimal exposure to potentially damaging liquid detergents.

Care for the environment: Because the Allurette washer requires no electricity, uses minimal water, and enables grey water to be disposed of away from the water source, you can enjoy using your Allurette anywhere, confident in the knowledge that you're respecting the environment and helping to maintain the beautiful planet that we all share.
More Features
Weighs only 112g
Compact storage for home or travel
User instructions printed on the outside of the bag
Transparent window to monitor washing and water levels
Grip backing on the outside to prevent sliding on surfaces while washing
New easy release twist-style air valve
Doubles as a dry-bag or hand-wash only laundry bag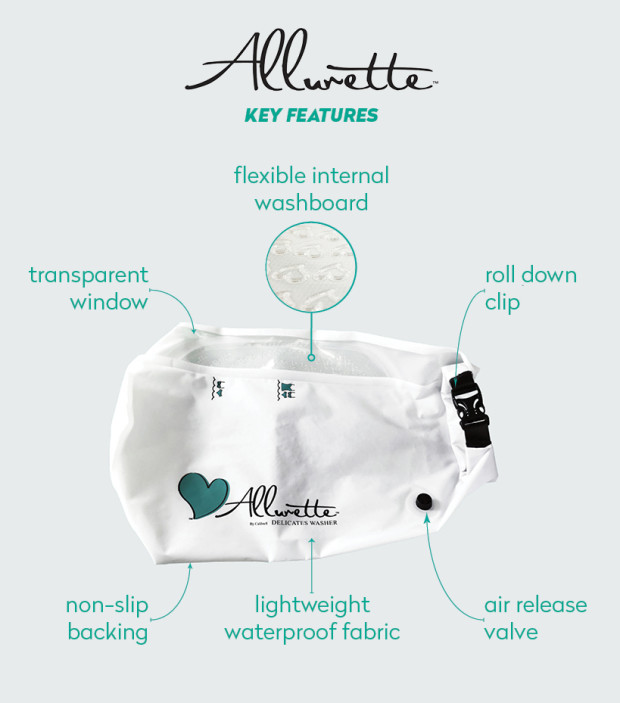 Specifications
Weight: 112g
Dimensions:
49 cm x 26 cm when laid flat.
13 cm x 6 cm x 6 cm when rolled and clipped for storage.
*Independently tested by a leading washing machine company
Freebies & Voucher
Free Credits to shop for next purchase: Free credits worth 3% of your total purchase amounts for purchase with RM100 and above in a single order.
Subscribe Now to our newsletter and get your voucher code for 3% discounts off your total order.
Warranty
All products come with 1 year limited warranty except those specified below :

Most of Ledlenser products come with worldwide warranty period of 2 years from the date of purchase and 7 years if you register your product online through the warranty card that comes in the packaging.
Vibram and Skinners shoes come with 3 months warranty.
Summer school bags, Sipesen backpacks, Nike bags, and Polo House luggage has no warranty.

Warranty are against manufacturing defects only, it does not include wears and tears, and or damages caused by misuse.

For more information on warranty, please view

our warranty policy

.
Return & Exchange
All items can be returned or exchanged within 5 days upon receipt of your goods if they have not been worn, altered or washed. All items must be returned in their original condition with all tags attached, and must be returned in their original packaging. Please click our return and exchange policy for more details.
Shipping
Free Delivery within West Malaysia for any order with RM80 and above.
The deliveries to Sabah, Sarawak, and Labuan are serviced by POS Malaysia. Delivery lead time will take up 1 to 3 weeks time.
We currently provide deliveries to Malaysia and Singapore Only.
For any other international delivery, please email us at sales@gotravel-outdoor.com for arrangement.
Please click on shipping and delivery for more information.