Product Description
For everyone who wants better quality control: i9 CRI's Natural Light shows colors just as they appear in daylight. This allows you to inspect welds and electrical connections with absolute accuracy – even in dark surroundings. And if you want to take an even closer look, the Rapid Focus technology lets you focus the light cone with just one hand. So you can see everything at a glance – in true color.
It has a CRI of over 90. CRI is a measure of the ability of a light source to render the colours of various objects accurately in comparison with an ideal or natural light source. The scale is between 0 and 100, with 100 being natural light, and 90 being very close to natural light in regards to natural colour rendering.
Features
Technologies
ADVANCED FOCUS SYSTEM™
Galileo swore by the power of lenses, Newton swore by reflectors. We have simply combined the two technologies – but better than anyone before. The result: our patented Advanced Focus System (AFS), which allows a seamless transition from homogeneous low beam to sharply focused high beam. The efficiency of the AFS even has experts thrilled.

RAPID FOCUS
When you focus and defocus a flashlight or headlamp, the reflector lens moves in relation to the LED. With conventional mechanical systems this is done, for example, by turning the head of the flashlight. Since we found this technology too slow and impractical, we developed Rapid Focus: a single-hand mechanism used to change the light beam lightning fast – using one hand.
Specifications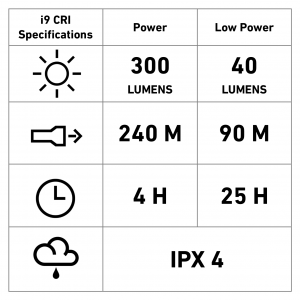 | | |
| --- | --- |
| Technology | Advanced Focus System, Natural Light, Rapid Focus |
| Light Output Max [lm] | 300 |
| Light output Min [lm] | 40 |
| Beam distance Max [m] | 240 |
| Beam distance Min [m] | 90 |
| Run time Max [h] | 25 |
| Run Time Min [h] | 4 |
| Head Diameter [mm] | 39 |
| Length [mm] | 196 |
| Weight Incl. Batteries (g) | 312 |
| LED Type | High Power LED |
| Battery Type | Alkaline |
| Rechargeable | No |
| Waterproof Level | IPX4 |
| Warranty | 7 Years |
Freebies & Voucher
Warranty
Return & Exchange
Shipping